Frequently Asked Questions
Get answers to the questions most frequently asked about running the Yellow Mountain Race race.
WHEN IS THE RACE?
The Yellow Mountain Race will be from March 24-26, 2023.
Online registration is open, you can register here, on our website. Entry fees will increase as the race date gets closer, so register now before prices go up.
WHEN IS THE DEADLINE?
Registration closes on March 3rd to allow time for event planning and logistics. Register now to guarantee your spot.
WHAT'S INCLUDED?
Run 22K, 65K, 82K, or 100K course
Finisher medal
Official race shirt
Bib number
Timing chip
Volunteer support
Checkpoint Stations
Medical first-aid
Finish line food & water
A dream race experience!
RACE LOCATION?
The Yellow Mountain Race is located in Gengchengzhen, Huangshan District in the Anhui province of eastern China. The race check-in, and starting point are located at the Puxi River Tourist Service Center, Huangshan District. (黄山区浦溪河游客服务中心)
CHECK-IN
Time: 10:00-22:00, March 24, 2023
Location: Puxi River Tourist Service Center, Huangshan District (subject to final release)
Contestants must bring their original identity certificates when receiving the event package, and they are not allowed to collect materials on behalf of other contestants.
When participants go to the event bag collection area, they must first present their original identity certificates. After verifying their identity, they must agree and sign a disclaimer, and finally receive the event bag.
Items to receive include (but are not limited to): 1 race bag, 1 number bib, 1 competition shirt, and 1 set of timing chips.
RACE DAY SCHEDULE
Time: March 25th
Start and end of the race: Puxi River Tourist Service Center, Huangshan District
GROUP
CHECK-IN
DEPARTURE
CLOSING
120K
2023/3/25 4:50-5:25
2023/3/25 5:30
2023/3/26 15:30
82K
2023/3/25 4:50-5:25
2023/3/25 5:30
2023/3/26 5:30
65K
2023/3/25 4:50-5:25
2023/3/25 5:30
2023/3/26 0:30
22K
2023/3/25 4:50-5:25
2023/3/25 5:30
2023/3/26 13:30
Special reminder: The check-in, departure, and closing times of each group are subject to the announcement before the competition.
FINISHER AWARDS & PRIZES
All finishers can get a corresponding group medal, and the resulting certificate will be released and downloaded within 48 hours after the end of the competition.
All finishers will receive an official finisher medal.
Finisher Certificates will be available for download and print via email a few days after the race.
The top three prizes for men and women in the 22K / 65K / 82K / 120K categories will be awarded competition trophies and commemorative prizes.
*Prizes are subject to change each year.
GEAR CHECK
The competition will provide storage service for the 120K, 82K, 65K, and 22K contestants in the clothing storage bag (total size less than 30 liters). Contestants who need this service must paste a small number sticker on the designated location of the clothing storage bag for identification, and start at the start of the race. Hand over the storage bag to the staff in the bag storage area at the starting point of the race beforehand.

The competition will not check the items placed by the contestants in the storage bags.

Therefore, contestants will not accept complaints about the status of related items when receiving the storage bag, and will not be liable for compensation for their loss or damage. 

It is recommended not to store valuables such as mobile phones and documents and cash in the storage bag.

In the 120K event, a drop point is set up at CP5. When the contestants of this group arrive at CP5, they can take back the storage bag and change clothes with the number bib at the dressing point. If it is discarded voluntarily by the players, the organizing committee will not be liable for compensation for the loss.
120K group: each participant has 2 race bags and must not exceed 30 liters, which are stored at the starting point; the change-up bag will be transferred to the change-up point (CP5) with the car after the contestant starts. Points will be transported back to the starting point after use; 82K group / 65K group / 22K group: each participant has 1 race bag and shall not exceed 30 liters, which shall be stored at the starting point;
It is important that all Yellow Mountain Race participants follow the race rules and regulations, please review for details.
TRAVEL REQUIREMENTS
TESTING
Currently, China requires proof of dual negative COVID-19 test results for a Health Declaration Certificate (HDC) QR code before boarding any plane to China. The tests must be completed no more than 48 hours prior to departure and submitted to the local Chinese embassy or consulate.
VACCINATION
As you prepare for your trip to China, it is very important to consult your doctor regarding your general health to participate in endurance activities and any vaccinations you may need.
It is also important to check with the China embassy and your local travel requirements to verify if vaccination and certified test results are required for travel.
Vaccinations should be obtained from your own physician. If Yellow Mountain Race gives information about vaccination measures or other medical information, this should be considered as a service that is under no medical liability.
Participants must be able to document the fulfillment of vaccination requirements by presenting the International Certificate of Vaccination.
Please be advised that vaccination and testing requirements are the customer's responsibility.
QUARANTINE
Additionally, there may be quarantine requirements upon arriving in China. Requirements are being updated regularly as we progress through the pandemic.
MORE INFO
Please check your local Chinese Embassy website for up-to-date requirements.
CHINA VISA
A China travel visa is required for foreigners to enter the country. We recommend you apply for a visa as soon as you have your flight itinerary. It is best to apply early rather than risk missing out. When applying to be sure to provide in advance your flight itinerary.
Almost all non-Chinese nationals will need a visa to enter China. There are different visa categories and you will most likely need a tourist visa (L). Please contact your local Chinese embassy or consulate for more information. The procedure normally requires submitting a visa application form, paying a fee and providing the Chinese authorities with an authorized flight itinerary from your travel agent. This process takes about one to two weeks. Note that your passport must be valid for at least six months after entry. For more information please visit the Chinese Embassy website.
HOW TO GET THERE?
Participants will need to arrive at the city of Gantangcun or closer to the town of Gengchengzhen, Huangshan District in the Anhui province of eastern China. The race check-in, and starting point are located at the Puxi River Tourist Service Center, Huangshan District (黄山区浦溪河游客服务中心).
BY PLANE
Participants flying in will need to arrive at Huangshan Tunxi International Airport (TXN). It takes approximately 1-hour flight from Shanghai to Tunxi.
BY TRAIN
Participants traveling by high-speed train will need to arrive at Huangshan North Station. It takes approximately four and a half hours from Shanghai. Note there are 2 stations in Huangshan, you want to arrive a the North station.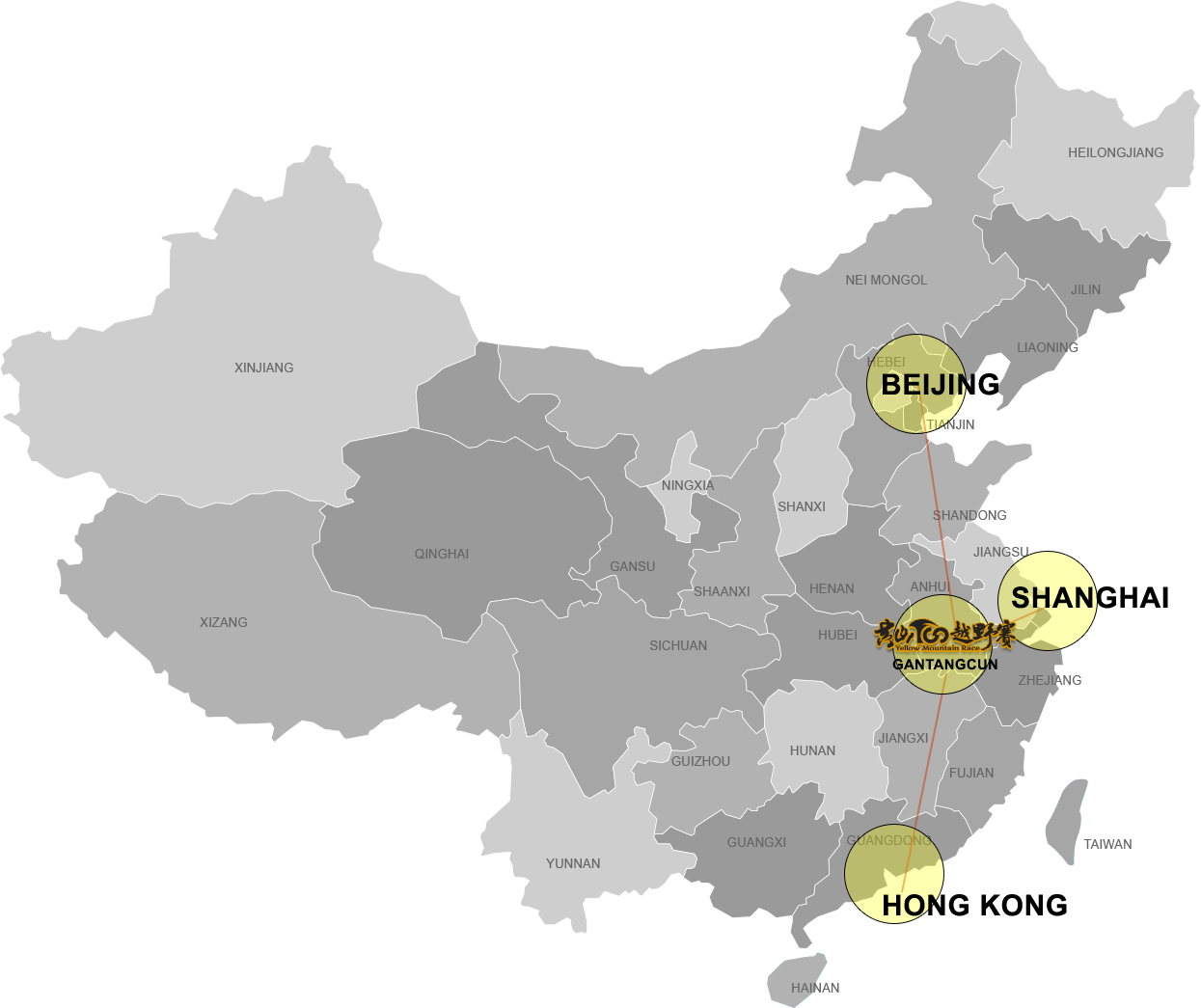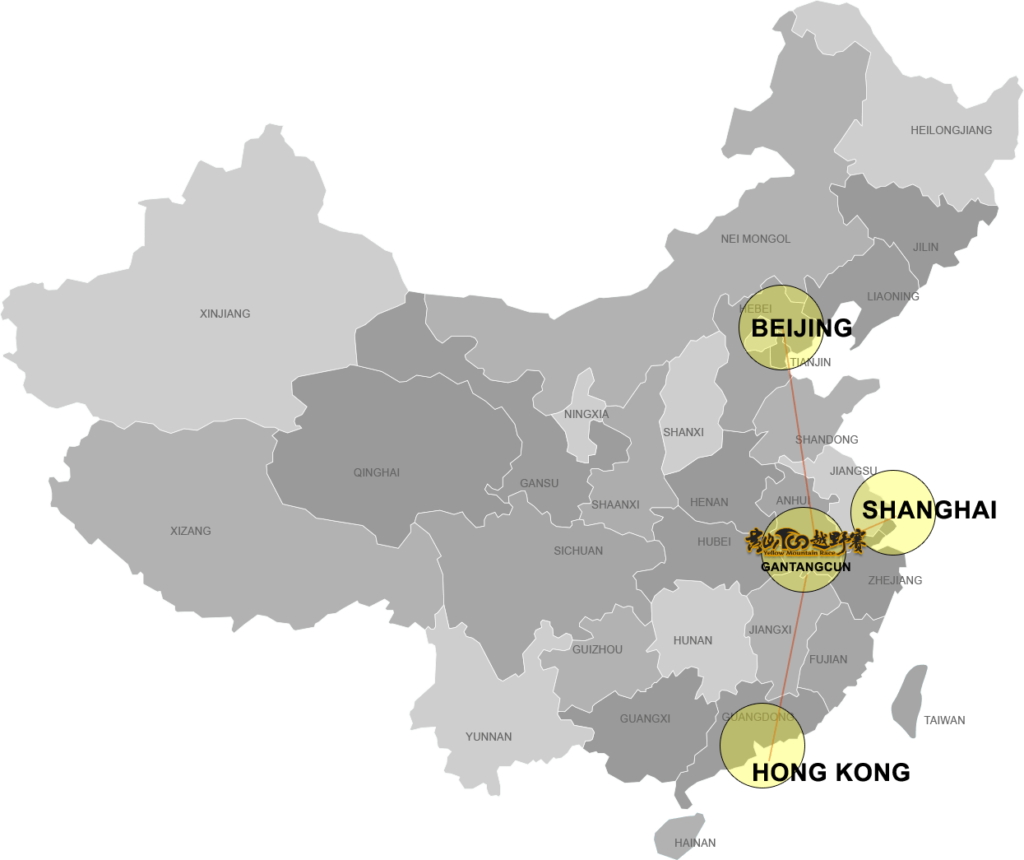 HOWS THE WEATHER?
Average weather in Huangshan in mid to late March can be cool with temperatures at 18°/8° C or 64°/46° F, with about 40% chance of precipitation. Temperatures will drop as elevation increases into the Yellow Mountain, prepare for a 5-15° variance. We recommend checking local weather forecasts as race day approaches and planning accordingly.
ENTRY TRANSFERS
Entries are NON-TRANSFERABLE. Sorry, no exceptions. Due to the insurance requirements for each individual, no transfers are allowed for this event.  If it is discovered that your entry has been transferred, the qualification of both the transferor and transferee will be canceled.
Can't find the answer to your question above or on the regulations page? Please contact us with your questions and we will get back to you as soon as we can.
DISCLIAMER
Please note that event information here represents what is planned for the event. Locations, routes, schedules, adjustments, and changes may apply depending on conditions, availability, late participation entries, and improvements. The event strives to improve for the best experience.